COVID-19 Please be assured that the practice is still fully operational. We have temporarily changed our services to help our clients by opening from Monday to Friday 8am to 6pm daily and weekends 8.30am to 12pm. Please note this is a this is a short term arrangement to minimise staff in the building and ensure robustness in relation to Covid. We have increased logistical capacity to help with delivery and collections at this difficult time. Please note, PMs need to be at the practice by 5.30pm to ensure they are performed the same day.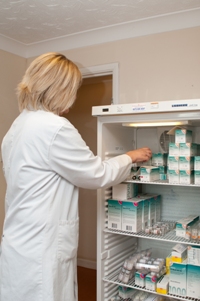 Crowshall Veterinary Services LLP has an extensive veterinary pharmacy with products relavant to the needs of poultry. Product include:
Medications
Vaccines
Vitamins
Organic acids
The pharmacy products range from those that may only be dispensed with a veterinary prescription (POM-V) through to those that may be dispensed over the counter without a prescription.
Feel free to contact us for more information.