COVID-19 Please be assured that the practice is still fully operational. We have temporarily changed our services to help our clients by opening from Monday to Friday 8am to 6pm daily and weekends 8.30am to 12pm. Please note this is a this is a short term arrangement to minimise staff in the building and ensure robustness in relation to Covid. We have increased logistical capacity to help with delivery and collections at this difficult time. Please note, PMs need to be at the practice by 5.30pm to ensure they are performed the same day.
Aside from Salmonella there are many other bacteria that can infect poultry. The Crowshall laboratory is concerned with four other areas of bacteriology.
Determinant Bacteriology- culturing and identifying bacteria involved in disease cases
Antibiotic sensitivity testing- to determine which range of antibiotics may be appropriate for treating a given infection
Total viable count testing (TVC) - to determine efficacy of cleansing and disinfection programmes or bacterial status of drinking water
Campylobacter testing
Click below to access "Submissions Forms" so that you can print off a form to send with your samples.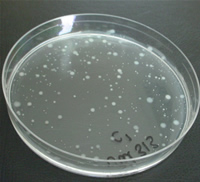 TVC plate with colony forming units (CFU's)