COVID-19 Please be assured that the practice is still fully operational. We have extended our services to help our clients by opening from Monday to Friday 7am to 7pm daily on a shift pattern. The practice continues to be open weekends 8.30am to 12.30pm Saturday and Sunday. We have increased logistical capacity to help with delivery and collections at this difficult time.
Other Testing- Molecular Technologies (PCR)
Crowshall laboratory continues to develop and change in a dynamic way to meet customer requirements. Newer technologies allow ever more sensitive testing which can be important tools in the diagnosis and monitoring of older diseases as well as newly emerging disease of poultry
Molecular technologies such as PCR (polymerase chain reaction) which detect the genetic material such as DNA of infectious pathogens are one such example. Crowshall are proud to now offer the new tehnology and service.
PCR testing at Crowshall Veterinary Laboratory can be used for detection of DNA to the following organisms at this time:
Mycoplasma gallisepticum
Mycoplasma synoviae
Mycoplasma meleagridis
In the near future PCR testing will also be offered for other important pathogens of poultry such as Ornithobacterium rhinotrachaele (ORT).
This new facility offers highly sensitive, rapid detection which can offer significant benefits diagnostically and therapeutically.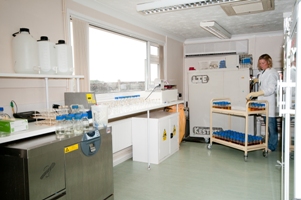 Crowshall Veterinary Services LLP Media Lab